Testimonials - Example Page
Testimonials also display on the bottom of the home page!
Devils Crown Quarter Horses
Looks great, thanks for designing a beautiful website that I can easily work on. Highly recommend!
Cristina K.
Montana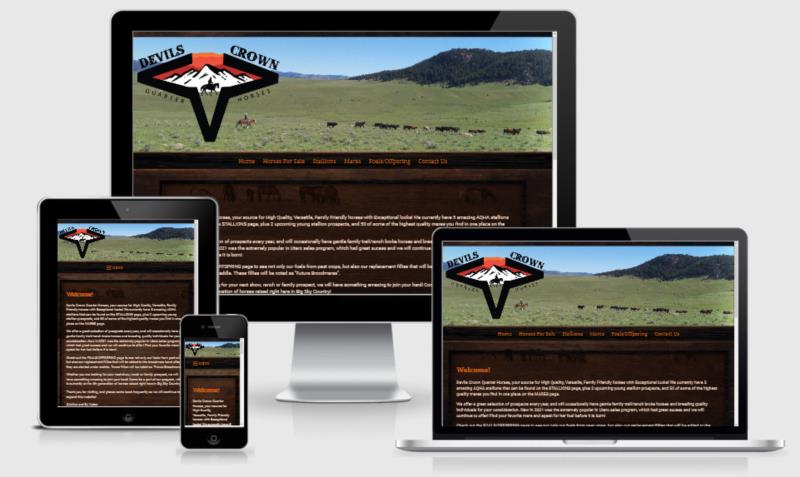 ---
I feel like I am her only client!
Thank you! I have to tell you that Debbie is absolutely AMAZING!! I feel like I am her only client! :)
Jill F.
---
Worth every penny!
When I first started my business I built my own website. I was very proud of it and put a ton of time into building it. I showed it to a lady in the same business as me. She was far more successful than I was and I respected her very much. She point blank told me that my website was pitiful and no one would get past my homepage. She gave me Big Sky Internet's email. After I swallowed my pride, I gave Big Sky a call. It was best decision I made on an advertisement level. They have built two websites for me now. The professionalism and responsiveness is second to none. They understand the importance of time and quality. I love their creativeness and classy ideas. Worth every penny. I would recommend Big Sky to anyone.
Sarah M.
---
Show cases our cutting horses in real style
This is the second website Big Sky Internet Design has built for us. As our business grew in other directions, it was important to us to have the same feel throughout all the entities. We were so pleased with our new, updated look! It show cases our cutting horses in real style.
Jean F.
---
Professional, friendly and timely
Big Sky Internet Design did our website! They were professional, friendly and timely! We are complete newbies on the website front and they made it simple and user friendly. I had a few ideas of what I wanted it to look like and they made it come to life! If you need a website designed choose Big Sky! They are the best. You won't be disappointed!!!
Megan C.
---
Amazing Job!
Big Sky did an amazing job on the design of my website! They were great to deal with and were very helpful with their input too
Lisa N.
---
So pleased with the outcome!
I have had great feedback on the website. Yesterday I received a compliment from a big breeder and they wanted to know who had designed it. Thank you again for making our vision a reality and guiding us to improve it. We are so pleased with the outcome.
Kristine M.
---