What key information should be on every website?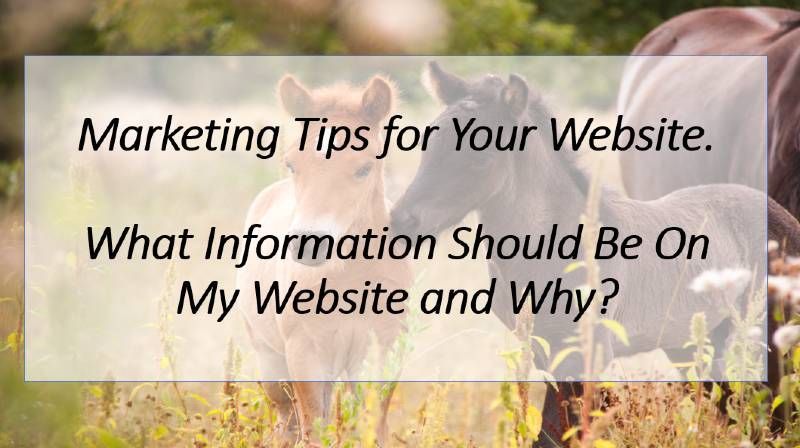 (click image to view larger)
Today's marketing tips for your website are about the most important information that should always be on your site. Much seems to be common sense, but some of these tips dive more into actual marketing.
Check out the video below for all the details.
---
---
Home Page:
- First Impression is Critical, but today we are discussing actual content more than design.
- Why and how are you Unique. This is called a USP, or Unique Selling Proposition.
- What do you do or have you done that others do not?
- Needs to be on top of the 'fold' to get the visitor's attention when the page is loaded.
Here is a good example of our home page and what makes us unique in the website design world:
Navigation:
- Simple, not fancy.
- Titles should be descriptive of the content of each page.
- Must work on both a computer and phone.
- Should also be on the footer.
Content:
- Services and Products you offer.
- It must be totally Obvious your visitors are in the right place.
- Who you are. You need to build trust by talking about yourself. Trust is critical for building relationships with your customers.
- Personal touches that make you a real person. Photo galleries and candid shots are great for this as are Social Media Feeds.
- Why customers should choose you specifically!
- While it is obvious to you, it is NOT to everyone else. You must make it obvious to them.
- Back to your USP… What makes you unique?
- What advantages do you have that others do not? Experience, Achievements, Longevity, Facilities, Customer Loyalty, etc…
Contact Information:
- It is crazy how hard it is to find how to contact people on many websites.
- Your contact information should be on every page, top and bottom.
- If you are selling horses, stallions, mares, trailers… make sure each of those details page have an EASY way to contact you.
- Make sure your phone numbers are links that work to call you on a phone.
Key Takeaways:
- Unique Sales Proposition.
- Clean, Simple, No-Nonsense Navigation.
- Easy to find relevant information that sets you apart.
- Easy to find and easy to USE Contact Information on every page.
---
Let us know how we can help with your website needs!
---